50 STRATEGIES FOR DEVELOPING ORAL LANGUAGE


Grades 4–8

Specs: 8.5″x11″, 120 pages
Talking to Learn demystifies the process of oral language development with 50 concrete and classroom-ready strategies to help foster literacy development through accountable talk. Featuring powerful instructional insights to assist in managing the challenges of teaching and assessing oral language skills, Talking to Learn makes accountable, purposeful talk an essential and achievable component of a classroom that encourages critical inquiry, collaboration, and independent thought.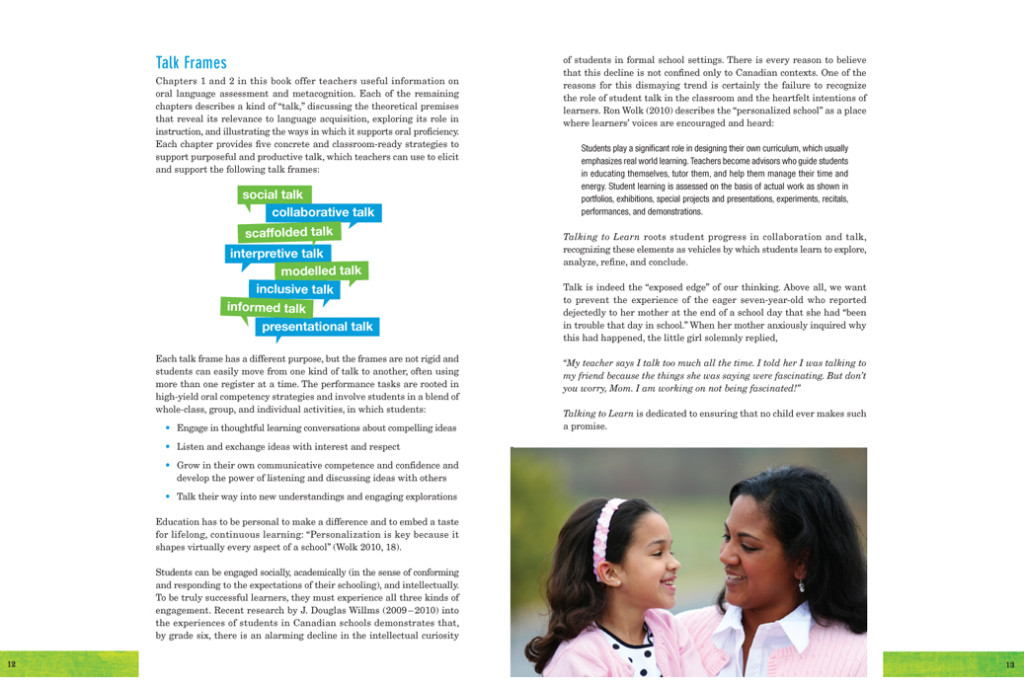 Features
50 high-yield strategies for social interaction, presentations, and small- and large-group processes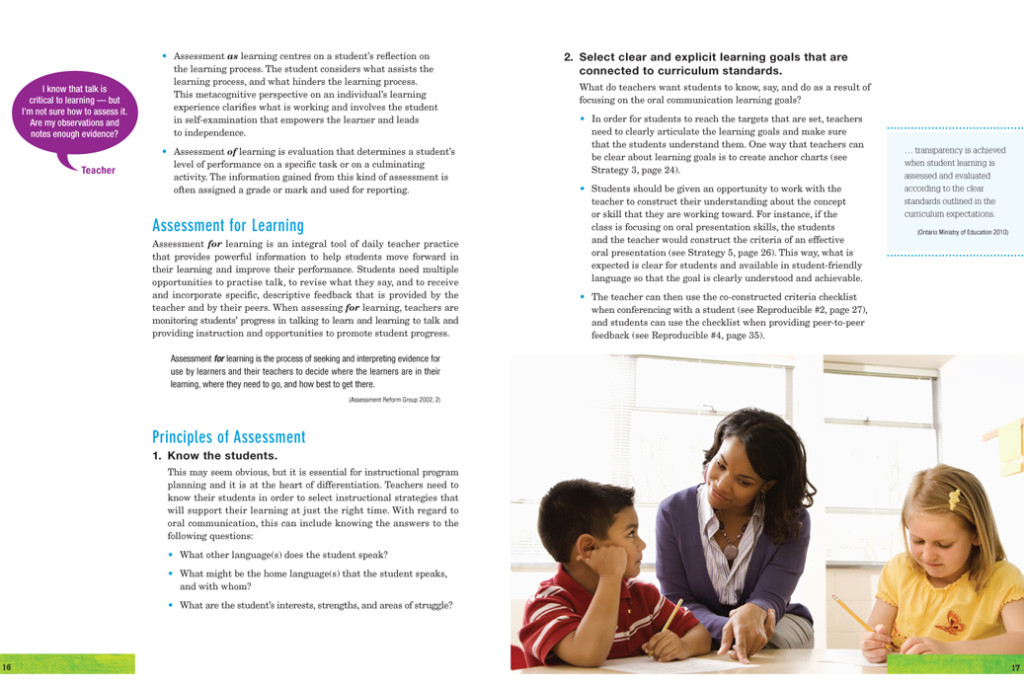 Features
Tips for assessment and evaluation to help teachers manage the challenges of teaching and assessing oral language skills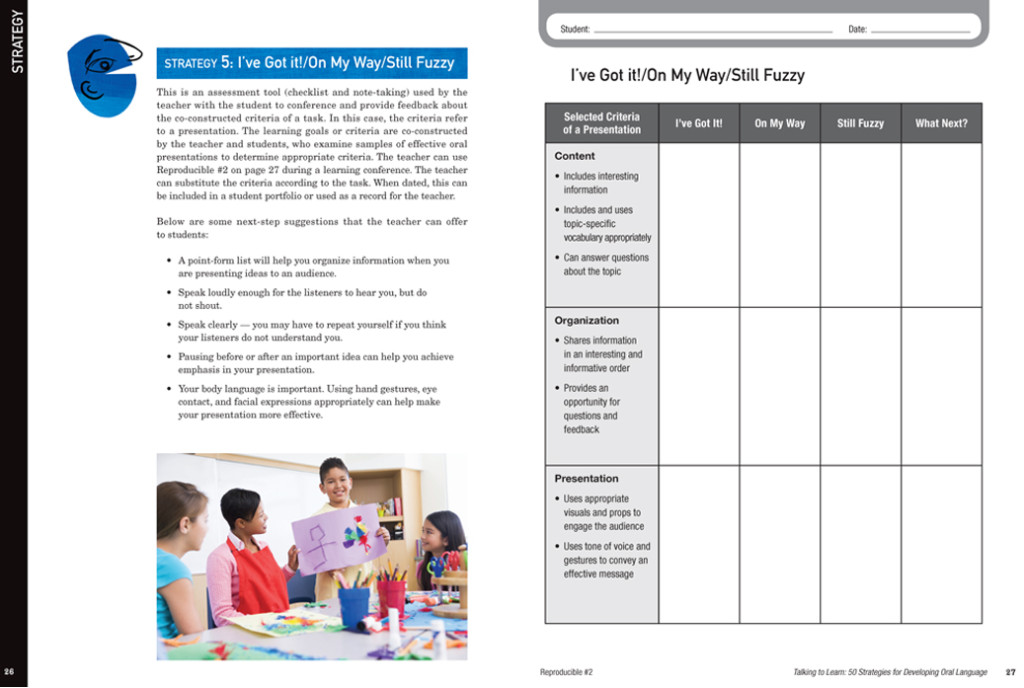 Features
Strategies for linking oral communication to reading and writing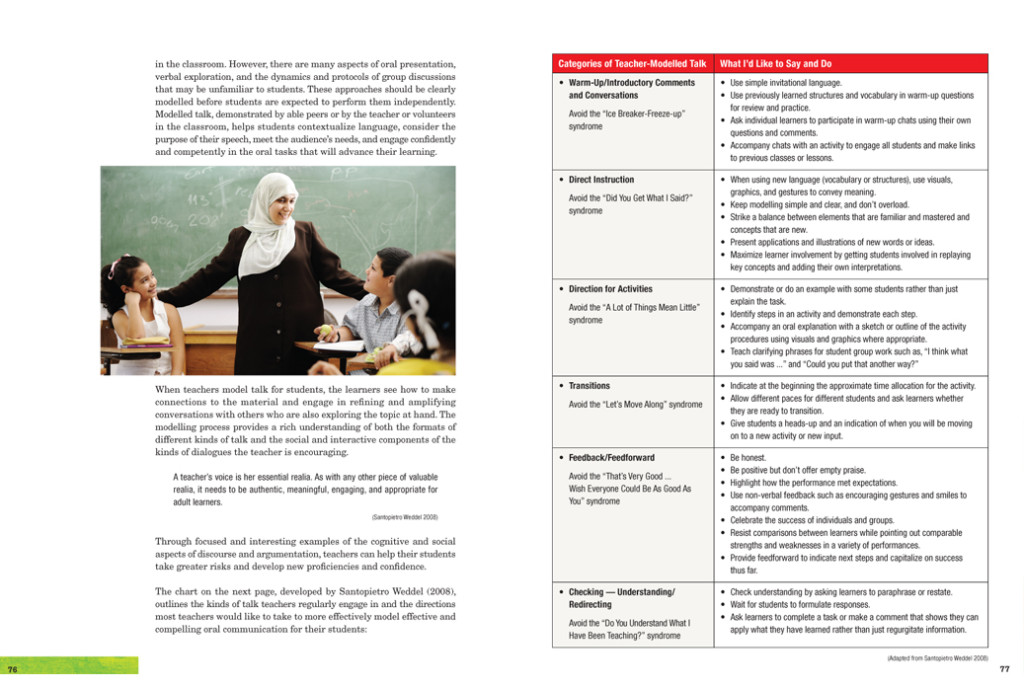 Features
Opportunities for teachers to use a rich variety of technological resources to support student inquiry and engagement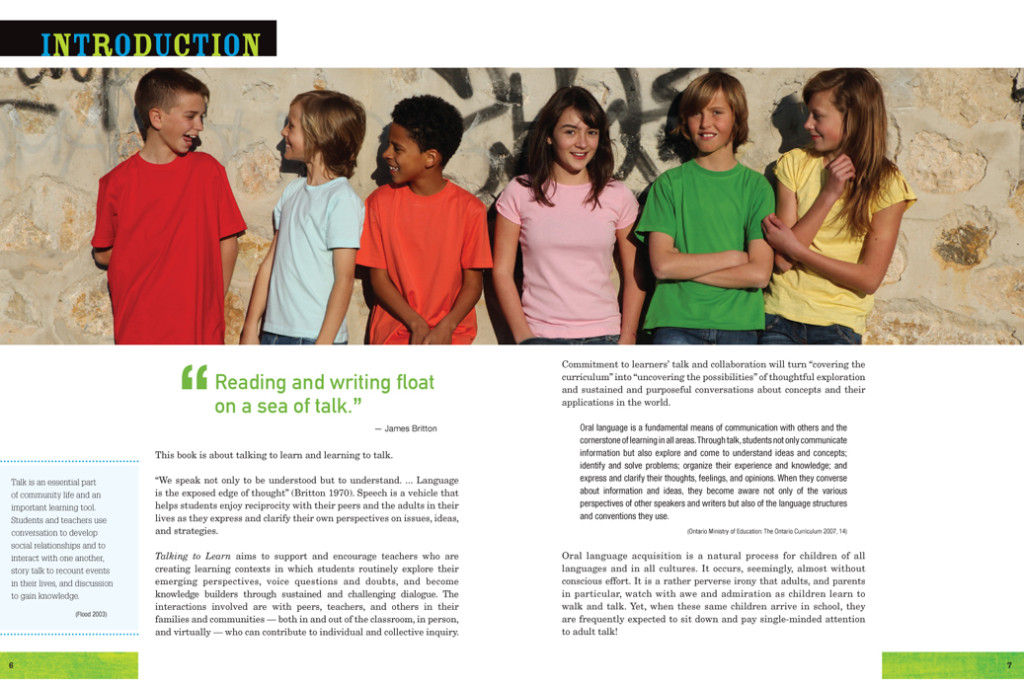 Features
Supports for the inclusive classroom where all students, including English language learners, benefit from dialogue and activities based on respect and reciprocity
Jennifer Glass is currently Instructional Coordinator of K–12 ESL/ELD programs in a large, diverse school board. Jennifer has supported English language learners and their teachers in a variety of roles — as classroom and ESL teacher, consultant, and additional qualification instructor. Jennifer has written collaboratively for a variety of resources that include school board, university, and Ministry of Education documents.
Joan Green is a distinguished Canadian educator and administrator who has served as a teacher, principal, superintendent, and Director of Education for the City of Toronto. She is the founding CEO of the Ontario Education Quality and Accountability Office and has provided strong leadership at all levels of education. Joan has been a professional development leader provincially, across Canada, and internationally. She is the author of several books and numerous articles on education and leadership issues.
Joan is the recipient of several awards, including the Distinguished Educator Award from OISE, University of Toronto, and Woman of the Year for the Women in Educational Administration in Ontario. In 2012, in recognition of her contributions to public education and her service and leadership in the not-for-profit sector, Joan was invested as a member of the Order of Ontario.
Currently, Joan Green is a Senior Public Sector Consultant at the Phelps Group.
Kathleen Gould Lundy is the Coordinator of Destination Arts at York University and the Principal Investigator of All I's on Education: Imagination, Integration, and Innovation, an intensive study currently taking place in 10 school boards across Ontario, which is intended to provide a foundation for the implementation of interdisciplinary assessment and evaluation in math, science, and the arts. Kathleen has coordinated the writing of a number of curriculum documents, including The Treasure Chest: Story, Drama and Dance/Movement in Motion, a resource developed in partnership with the Danny Grossman Dance Company. She has published a number of professional books, including What do I do about the kid who…? 50 ways to turn teaching into learning.
To view or download the Talking to Learn order form, please click here.
To view or download the Parler pour apprendre order form, please click here.