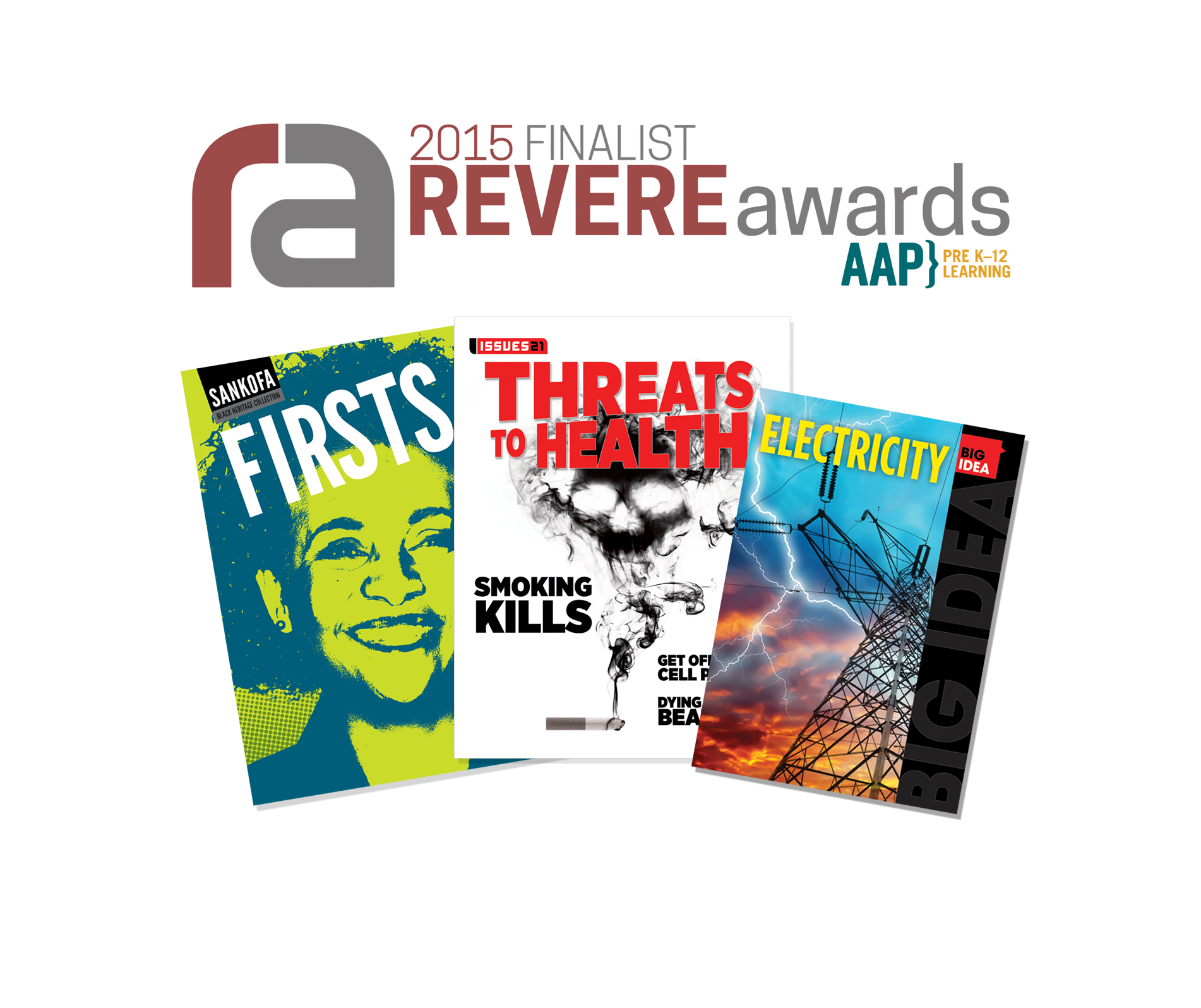 NEW YORK, NY — Rubicon is pleased to announce that three recently launched series — Sankofa, Issues 21, and Big Idea — have been named finalists in the 50th Year Celebration 2015–2016 Revere Awards.
"The Revere Awards identify and [honour] high quality resources that educate learners of all ages, in all media, and in all educational environments, both in and beyond the classroom. The program supports the PreK–12 Learning Group's mission of advocating for quality content in teaching and learning."
Sankofa is a finalist in the Beyond the Classroom competition, Relate category. One judge commented, "Sankofa was enjoyable to read, and provided a rich, engaging learning experience. Any reader would come away with more knowledge and a better understanding of black history."
Issues 21 is a finalist in the Classroom competition, Supplemental Resources category, News and Current Issues subcategory. One judge remarked, "These books offer stimulating material which inspires critical thinking. The information is presented clearly and vividly and focusing each book on a topic makes everything easily digestible."
Big Idea is a finalist in the Classroom competition, Supplemental Resources category, Resources for ELLs subcategory. One judge said, "This is a wonderful supplemental product for elementary science and social studies curricula with a direct focus on ELLs. The books are engaging and present the content in an interesting manner."
Sankofa is a contemporary literacy resource for all students in Grades 4 to 8. Sankofa is designed to help promote understanding of the African Canadian narrative during Black History Month and throughout the school year.
Issues 21 dares students to imagine a world where change is possible and, when equipped with the right knowledge, skills, and tools, they can make it happen. Each book explores topics that are compelling, contemporary, and thought-provoking. They encourage students to make ethical decisions, value diversity, act responsibly, and develop a social and global conscience.
Big Idea is a series of content-area books designed to make Grades 4–6 curriculum topics accessible to English language learners (ELLs) and striving readers. Concepts are explained clearly through a combination of identifying the "big ideas" and illustrating those ideas visually with photographs, illustrations, diagrams, labels, and supporting text.
For more information about the 2015–2016 Revere Awards and for a full list of finalists, please click here.