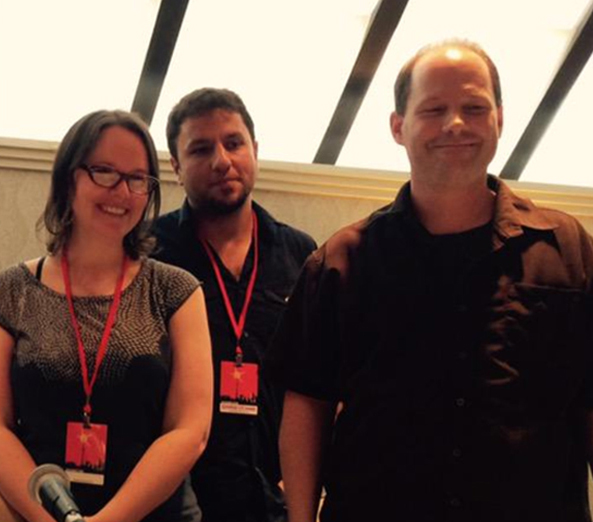 TORONTO, ON — At this year's Toronto Comic Arts Festival (TCAF), Rubicon author and series editor Glen Downey moderated three panels over the May 8–10 TCAF weekend.

Glen was the moderator and one of the presenters on a "Comics in the Classroom" panel on Friday, May 8th as part of Teacher-Librarian Day. Glen presented alongside Leslie Holwerda, a librarian from the Peel Board, about the importance of teaching the history and vocabulary of comics, along with the importance of visual narratives, in the comics writing process.
On Saturday, May 9th, Glen was part of the "Where, How, and Why I Should Start Reading Comics" panel. Along with George O'Connor (The Olympians), Raina Telgemeier (Smile, Sisters, and Drama), Scott McCloud (Understanding Comics, The Sculptor), and moderator Robin Brenner (Understanding Manga and Anime), Glen talked about the merits of comics and their benefits for young readers.
To wrap up the weekend, Glen moderated "The Sculptor" panel on May 10th. During the panel, Glen interviewed Scott McCloud about his new book, The Sculptor. They also discussed his inspiration for the book and his writing process.
Glen had a wonderful time at TCAF, saying,
"On the scale of 1 to awesome, the Toronto Comic Arts Festival for 2015 was awesome. There was literally nothing about it that wasn't. From the tireless efforts of Christopher Butcher and the folks at The Beguiling to the waves of wonderful volunteers to the writers, artists, and fans who came out, the festival was, as always, a tremendous success. It was personally very rewarding this year given the amazing people I got to meet, talk to, moderate for, and present with."
Glen Downey is a Rubicon author and series editor for The 10, Timeline, Boldprint Graphic Novels, and Interface.