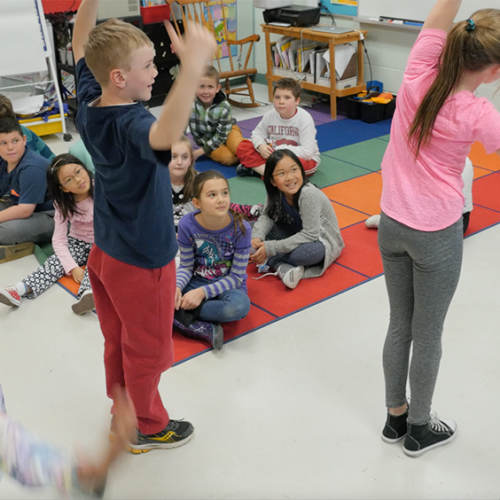 TORONTO, ON — For two months leading up to the holidays, schools from across the Toronto District School Board participated in a field test for Rubicon's new integrated online arts program, ArtsLink. Designed for students in Grades 1 to 8, ArtsLink provides students with opportunities to explore the various art forms — visual arts, music, dance, drama, and media arts — through a meaningful and integrated approach.
ArtsLink was introduced to teachers from four families of schools across the TDSB. All participating schools sent at least one teacher representative to a half-day ArtsLink training session that was provided before the start of the field test. The session focused on developing creativity and included an introduction to ArtsLink by David Booth, a brief walk-through of the program, and a hands-on lesson demonstration by Kathleen Gould Lundy.
Teachers were asked to run the field test during the allocated weeks (mid-October to mid-December) and cover as many of the arts strands as possible. Teachers were interviewed midway through the field test and then again during the Professional Learning and Sharing Session at the end of the field test. At the Professional Learning and Sharing Session, teachers brought evidence of student learning and student work to share with their colleagues.
The feedback from teachers and students was powerful and focused on how accessible and effective the program is for teachers. As Brian Bartlett of Charlottetown Jr. PS said, "I have been a teacher at the Toronto District School Board for the last 16 years now and I haven't been proficient in the arts for that time. I've been grabbing different resources from a variety of different places and felt a lot of insecurity. But, at this point, I feel like I have something that provides a vision for the kids in my class. It's a focus for them. And, for me, it provides a solid foundation that I have never had before as a teacher. I feel confident going forward in regards to what my kids can do and they can feel how excited I am in regards to what is happening in the class. So, to me, it's a game changer."
Adam Mason, a Music and Dance Expert at Adam Beck PS, added,
"One of the things that was great about [ArtsLink] is that it is definitely very well laid out … especially for a generalist teacher … or for a school where there isn't specifically an arts teacher, because with the pictures and the videos, it really walks you through step by step and gives you an example. So, even if you are not that comfortable with it, you can figure out what you are doing."